Promoting a Sustainable Process Safety Culture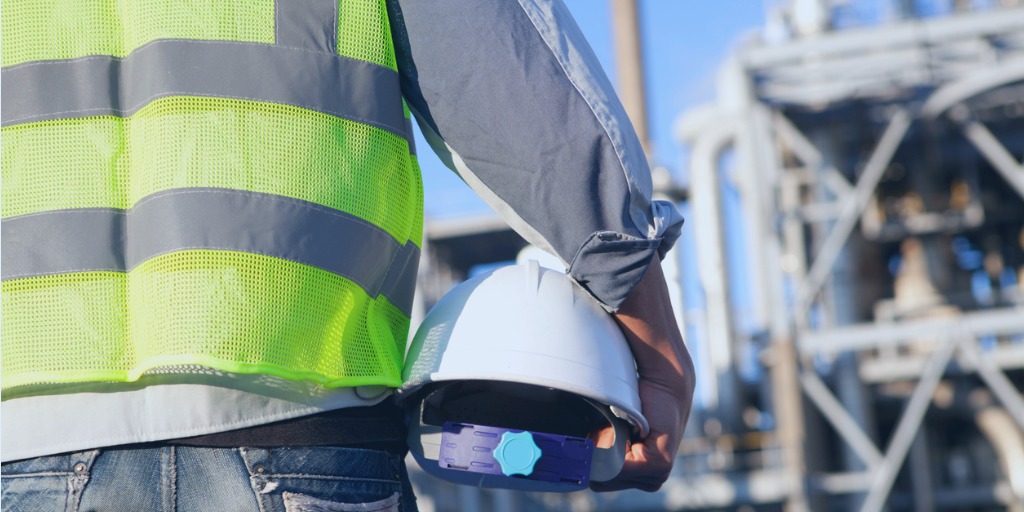 Promoting a sustainable process safety culture can be difficult. The Chemical Safety Board just issued their report on the November 2014 incident at the DuPont La Porte plant in which 4 people were killed:
Click here to read the full report.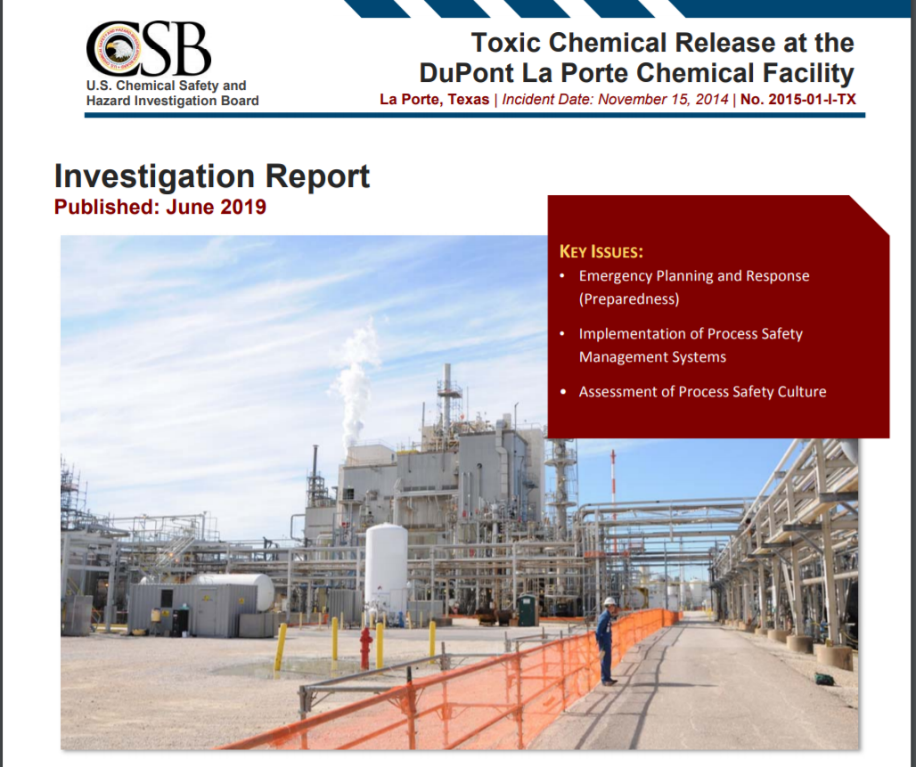 Summary of the Report 
The report reads like so many others highlighting some issues with promoting a sustainable process safety culture.  The root cause was said to have been the fact that site and corporate management failed to implement Process Safety Management Systems. Furthermore, the report also cites multiple failures in the overall management of Process Safety. The core failure in this incident was that the facility had a very poor Safety Culture as summarized in the excerpt from the CSB Report. The CSB Report devotes an entire section on how the Process Safety deficiencies in this incident parallel the findings in an earlier CSB report on the 2005 BP Texas City Refinery explosion, despite the site being aware of the report and its findings. ®
DuPont La Porte did not use any type of robust, formal process safety culture assessment. Process safety culture can affect whether a site has a sense of vulnerability in terms of process safety management risks; complacency or overconfidence; and transparent, timely, and thorough responses to PSM concerns, action items, and issues, including leadership measures to prevent a "check-the-box" mentality (i.e., simply accomplishing a task as the objective rather than ensuring a high degree of focus on risk management and prevention). The Safety Perception Surveys conducted at the DuPont La Porte facility before the November 2014 incident were designed to lower OSHA total recordable injury rates [59, p. 8]. DuPont did not intend for these surveys to measure or address the perception of process safety performance.
One of the issues with promoting a sustainable Process Safety culture is that it's hard without the right tools:
The tools that an organization typically has to manage day to day operations don't fit the needs of Process Safety Management.
The tools that do exist are typically single purpose and result in isolation of data and limited availability across organizational boundaries.
It's extremely easy for individuals to become disconnected as they often are not involved in day to day management of Process Safety and it becomes the perception that it's taken care of by others. Add a management attitude such as existed at La Porte where there was a misplaced emphasis on measuring personnel safety with no corresponding concern for Process Safety and establishment of a sustainable Process Safety culture becomes impossible.
An effective Process Safety Program needs to make Process Safety information widely available to all employees involved in design, operation, and maintenance of the processes in order to keep them all involved on a daily basis. When a site is using the tools traditionally available for plant operations, information becomes isolated from personnel and is difficult to access. 
Safety Lifecycle Manager (SLM®)                                   
The SLM® application was developed to address the many shortcomings relative to Process Safety that exist in many plants today. The origins of the application were a direct result of the CSB and Baker Panel findings relative to the BP Texas City Refinery explosion.
The objectives of the development of SLM were:
Unify Process Safety data in one location so it is accessible to all personnel that need it. This includes PHA, LOPA, IPLs, Plant Assets that perform the functions required by IPLs or other functions, and Field Devices that are used to implement the functions and performance records for Plant Assets and Devices.
Provide the tools to perform PHA and LOPA studies within the SLM application.
Link Plant Assets to PHA, LOPA, and IPL data so the Process Safety requirements such as LOPA IPLs or PHA Safeguards that resulted in the Plant Assets being installed can be directly accessed from Plant Assets and vice-versa. This provides a very clear linkage between real functions and devices in the plant to the Process Safety reasons that they exist. This addresses the very real issue of IPLs not being clearly identified by LOPA Teams, or multiple LOPA teams identifying multiple IPLs that correspond to the same Plant Asset. The figure below illustrates these relationships.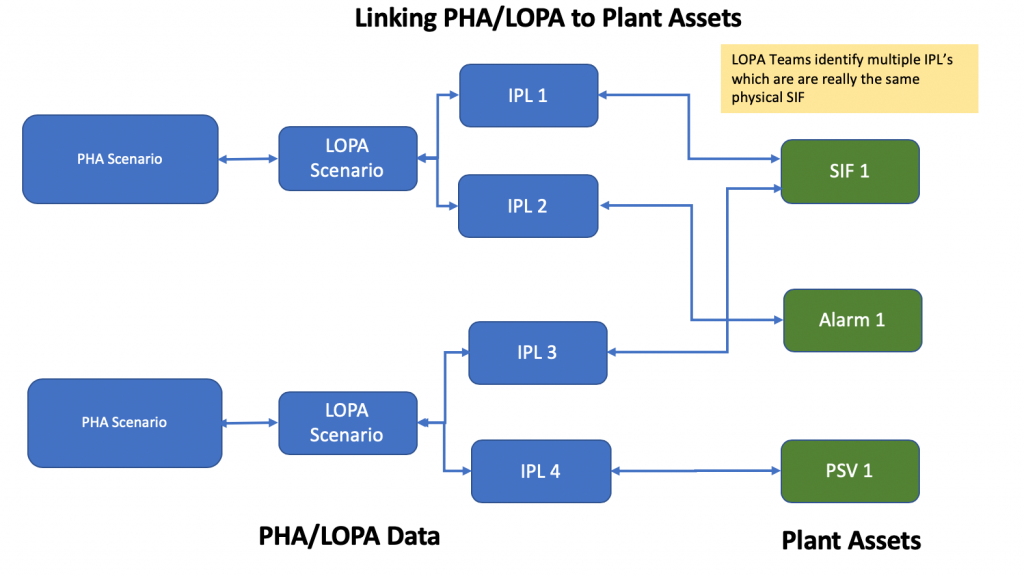 Provide engineering tools that support design of safety instrumented systems (SIS) and safety instrumented functions (SIF) and maximize consistency of design. This includes tools to rapidly develop Safety Requirements Specifications (SRS) and evaluate SIF Probability of Failure upon Demand (PFD). Functional requirements for Safety Related Devices are clearly defined as are testing requirements and any operational requirements.
Provide the ability to define functional requirements for other non-SIF Protective Functions and Safeguards and their field Devices including alarms, interlocks, BPCS functions and non-instrumented protective functions.
Provide the ability to upload or link key documents directly with Process Safety related Assets. These may be operation and testing procedures or other documents or drawings.
Provide a complete Life Cycle management capability that allows for management of Protective Functions during operation and maintenance after initial design and installation. Events associated with the operation of Safety Related Plant Assets such as Demands, Testing, Bypasses and Failures may be recorded using simplified and consistent Work Flows. The figure below illustrates the relationship of Events to Plant Assets and Devices.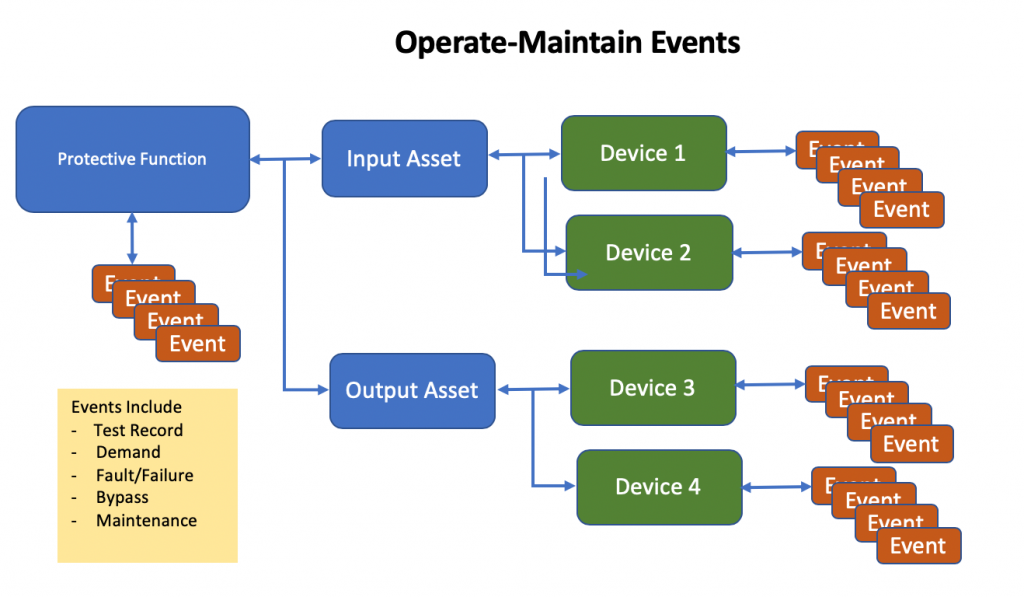 Provide a real time view of the performance of Protective Functions and their field Devices based upon the Event data contained in the database. Various Key Performance Indicators (KPI) allow the plant to understand the current state of performance and manage periodic testing and identify bad actors for which corrective action is required. Examples of various KPI's are shown below.
How SLM® can help when promoting a sustainable Process Safety Culture
Instead of separation of various aspects of Process Safety, they are integrated in one web-based application that makes Process Safety information available to all personnel who have Process Safety interests.
SLM® allows personnel with Process Safety responsibilities to participate in Process Safety Management on a routine basis. Furthermore, personnel that are closest to various Events may be assigned responsibility to record those Events.
For example:
Operations personnel are responsible for entering Events for operational related items such as Demands, Bypasses, and Failures while maintenance personnel are responsible for monitoring testing that is approaching its due date as well as entering the results of testing and any other maintenance Events. This keeps personnel involved in the day to day management of Process Safety related Assets.
Rick Stanley has over 40 years' experience in Process Control Systems and Process Safety Systems with 32 years spent at ARCO and BP in execution of major projects, corporate standards and plant operation and maintenance. Since retiring from BP in 2011, Rick formed his company, Tehama Control Systems Consulting Services, and has consulted with Mangan Software Solutions (MSS) on the development and use of MSS's Safety Lifecycle Management software.
Rick has a BS in Chemical Engineering from the University of California, Santa Barbara and is a registered Professional Control Systems Engineer in California and Colorado. Rick has served as a member and chairman of both the API Subcommittee for Pressure Relieving Systems and the API Subcommittee on Instrumentation and Control Systems.