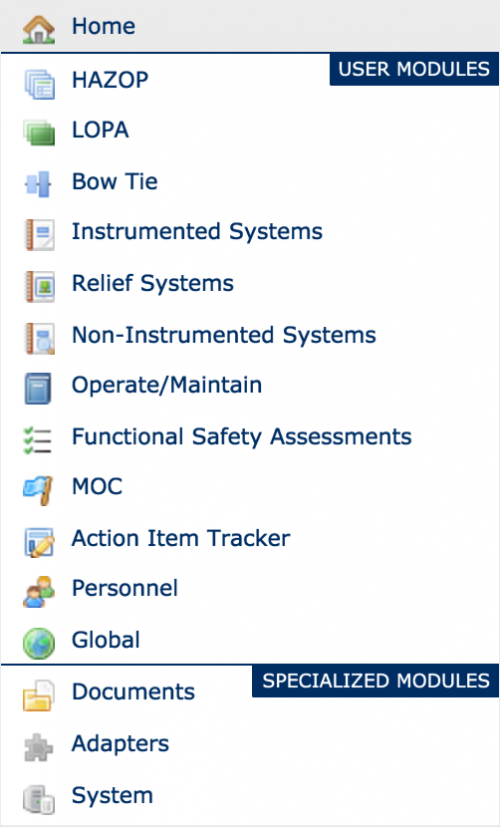 SLM V2 One Platform for the
Complete Safety Lifecycle
SLM V2 is a comprehensive set of interconnected application modules that cover the entire Process Safety and Functional Safety LIfecycle.  From HAZOP and LOPA Studies to SIS Design, Operations and Maintenance, SLM V2 has all the tools you need to successfully manage the Safety Lifecycle.
SLM V2 SOFTWARE PLATFORM FEATURES
SLM V2 has software modules for risk assessment and management methodologies like HAZOP, LOPA, and BowTie. As well as Instrumented, Non-Instrumented, and Relief Systems for IPL management and SIS design and SIL verification.  To ensure that the designed systems are managed and performance is measured, SLM V2 has an Operate & Maintain, Functional Safety Assessment, MOC, Action Item Tracker, And Personnel Modules to manage the operation and validation of your safety systems and personnel.
All of this inside one Enterprise Ready Software Platform to help you manage the Safety Lifecycle.
SLM V2 SOFTWARE PLATFORM BENEFITS
Secure Cloud deployment and delivery or On-Premise virtual server instances.
Designed for user and geographic cloud scaling for multi-site distributed deployments.
User configurable dashboards for each application module giving users the ability to put what's important to them up front.
Modern "Flat" user interface leveraging the latest UI/UX technologies from Telerik, GoJs, and AMCharts.
Dynamic report filtering, grouping and sorting allowing for deep data inspection in data tables, charts and graphs.
Export any data object or report to Excel or PDF, to allow for additional manipulation, discussion, dissemination, presentation, and review.
SLM V2 SOFTWARE PLATFORM REQUIREMENTS
SLM-Cloud (SaaS) Requirements
Current Supported Version of Microsoft Internet Explorer (IE11 or Edge)
(Or) Current Version of Chrome/Safari/WebKit Browser
On-Premise Installation Requirements
Microsoft Windows Server 2008 R2/2012
Microsoft Internet Information Server 7.5/8.5
Microsoft SQL Server 2012 Standard Edition

Current Supported Version of Internet Explorer (IE11 or Edge)
The SLM Software Suite is comprised of 10 Software modules that encompass the entire IEC 61511/ISA4 Safety Lifecycle.  
Click on a module below for more details.
---
SLM V2 Atlas™ Platform Modules
The Atlas™ SLM Platform Modules are included as a part of the base system and are used by all of the Software Modules to provide Global Data, Document, Personnel and Configuration Management.  
Mangan Software Video Presentations
Mangan Software SLM Overview
Mangan Software SLM is the single solution to transform all your process safety information into actionable intelligence.  By bringing all the data and engineering processes from your process safety, functional safety, and asset integrity disciplines into SLM cloud-based platform, you now have a sustainable and cost-effective approach to continuous safety improvement.
Mangan Software Process Safety Intelligence Platform
The world's first process safety intelligence platform by Mangan Software Solutions.

Functional Safety Assessments - What, Why, When, Who, and Where
Presented by: Zach Marshall (MSS) and Ramon Morillo (Andeavor)
Date: Oct 23, 2017
ISA Webinar Event June 8 2016: Strategy, Tactics and Tools for the Safety LIfecycle
In this webinar, learn how one manufacturing organization approached the challenge of implementing and complying with the ISA84 Safety Lifecycle in existing facilities by adopting new management practices and software tools. What problems did they encounter? What key wins are expected, or have been realized, from the effort?
Stephen Thomas, PE (Chevron)
Alaric Durkan, MBA (MSS)
SLM V2 Atlas™ Platform Modules The SLM V2 Atlas™ Platform is the core set of software and technology used to configure, manage data, and site hierarchy across the complete enterprise.  Everything from custom UI logo's, font styling, units of measure, language translation, usage metrics, and API interfaces.  To data objects, how they are defined, what they contain, and how they are displayed in the system.  These things can all be configured and managed using our software platform.
We have designed our platform to be extensible so that all your data can be stored and managed within our common set of frameworks, as well as extending the platform to suit your enterprise requirements.  
Puts the user in control of what information is important.

Drag and drop dashboard creation

Configure the Home Dashboard with more than 150 available reports, data views, and KPI's throughout the system

Configure with up to 3 columns of dashboard widgets.

Access Recent Items, Quick Links, Bookmarks, and Available Modules

Globally Search the SLM Database for Objects, Data, and Information

Track and receive notifications on changes for a desired dataset with built-in subscription functionality

Translate the software views into over 100 different languages

Create interactive webviews of reports and other views and share with others, including non-users of SLM
Create and manage plant site hierarchy

Create and manage areas in a plant

Create and manage operating units in a site

Manage approval policies requirements throughout the enterprise

Manage process equipment globally across the system within each operating site

Specify site standards for various types of data to include:

HAZOP Deviations

Process Equipment Types

LOPA modifiers such as Conditional Modifiers and Enabling Events

Configure site-specific risk matrix information to include types of severity, severity values, likelihood values, risk ranking values, and risk mitigation targets, building a site-specific risk matrix in the process for use in the HAZOP and LOPA modules

Sync site-specific data standards to enterprise-level standards for data conformance option

Document P&IDs within site and/or process unit level data with ability to upload or link the actual P&ID file

Specify process unit nodes for PHA node uniformity
Manage personnel who will have roles in various parts of the Safety Lifecycle, such as in HAZOP, LOPA, MOC, FSA Studies, and protective systems design

Document personnel competencies per IEC-61511 regulatory requirements

Manage personnel who have data approval authority

Report on personnel competencies

Document personnel training and certifications

Implement Functional Safety Plans for operational sites

Document and track Functional Safety Plan phases and tasks with configurable checklists and personnel roles while linking to associated safety lifecycle data located in other SLM modules

Assess competencies of personnel applied to Functional Safety Plans

Track scheduling of Functional Safety Plan phase completion with automatically generated schedule completion charts
Execute projects in SLM specific to scopes of data selected outset of project definition
Check-out specific scopes of data from other modules
Execute and edit project data separated from source data during time of project
Utilize data templates in project data to speed up project execution
Identify and restrict data editing and approval capabilities to specific system users
Review proposed project data changes and approve changes to evergreen data
Check-in project data to merge approved project data changes with evergreen data
Apply documents to any data point in SLM

Specialized document logic models for more than 30 types of documents

Deep document search to search contents uploaded files to documents

Configurable document type mappings and rankings

Remote document linking to external document management system resource URLs

Tracking of document version and external revisions
The SLM Import Adapters module is used to import data in SLM to any other module using .csv or .xlsx formatted files. The module allows for defining and storing user configured Import Templates Mappings for batch data importing of data from other systems. Additionally, specialized import adapters are periodically released with SLM versions that ease the effort of importing certain complicated data relationships. Adapters are also available for common data import formats that use a system-generated mapping that requires no user defined mapping.
Map import files with the system interface guided mapping capability

Save mapping formats for later use.

HAZOP and LOPA specialized import adapters allow for importing the default PHA-Pro HAZOP and LOPA database format and fields.

Detailed Instructions on how to use the Import Adapters and the Smart Export Adapter.

Import datasets as small as single data points to datasets containing an entire module's data

Export datasets from data in any module

Export and import reference table data to the System Module

Export data type templates for pre-mapped file formatting, eliminating any user required data mapping effort

Use the delete adapter to remove multiple specific data points in the system in one effort
The SLM Configuration Module is the heart of the Enterprise Application Configuration.  Everything from Module Layout, Hierarchy, Data Objects, Associated Reference Tables and Dropdown Lists to Reports and Reporting Parameters are configurable in the System Configuration Module.
Module Dashboards

Data Templates
Data Catalog
Application Modules
Reference Tables
Dropdowns
Units of Measure
Reports & Parameters
Tasklists and Checklists
Accounts & Roles

Background Task Manager
Manage Task Schedules
Queue Monitor
Reset Queue
Global Configuration
Data Management
Tree & Navigation
Search Engine
SLM API
Maintenance Tools
Licensing and Bundles
SLM V2 has a flexible Licensing model allowing you to shape your Safety Lifecycle Solution around your business needs or project goals.    We have also built a number of product bundles which group common modules together for specific safety lifecycle management disciplines.  Please speak with one of our solutions analysts to help you determine the best fit for your plant or enterprise needs.
Per Module
Per Module Licensing
License only the modules you need

Includes SLM Atlas Platform Modules

Flexible Licensing Per Seat, Concurrent User, Site, or Enterprise

Perpetual Licenses or SaaS Available

On-Premise Installation, or Securely Hosted on our SLM-Cloud 
FSE Bundle
Functional Safety Engineering Bundle
HAZOP, LOPA, Instrumented Systems, Operate & Maintain and Functional Safety Assessment Modules

Includes SLM Atlas Platform Modules

Flexible Licensing Per Seat, Concurrent User, Site, or Enterprise

Perpetual Licenses or SaaS Available

On-Premise Installation, or Securely Hosted on our SLM-Cloud 
PSM Bundle
Process Safety Managment Bundle
HAZOP, LOPA, Bow-Tie, Action Item Tracker

Includes SLM Atlas Platform Modules

Flexible Licensing Per Seat, Concurrent User, Site, or Enterprise

Perpetual Licenses or SaaS Available

On-Premise Installation, or Securely Hosted on our SLM-Cloud 
SLM Full Suite
The Complete Safety Lifecycle
The Complete SLM Safety Lifecycle Suite all Modules 

Includes SLM Atlas Platform Modules

Flexible Licensing Per Seat, Concurrent User, Site, or Enterprise

Perpetual Licenses or SaaS Available

On-Premise Installation, or Securely Hosted on our SLM-Cloud 
What Our Customers Are Saying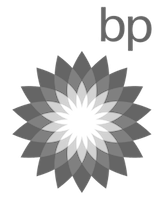 "BP's Prior Use vision was to meet compliance at an enterprise level with ANSI/ISA-84 &IEC 16511 and internal standards, and automate the data gathering and calculations to meet these requirements.
With no existing product available on the market, the Mangan Software Solutions team was quick to take the initiative to research, develop, test and refine a system that was able to meet our goals in a matter of weeks."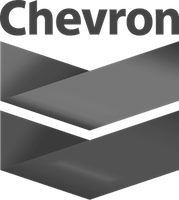 "We chose MSS because SLM is the only product on the market that could deliver the functionality we needed to meet our organization's strategic functional safety goals.  The software standardizes and streamlines our methods for developing safety requirements specifications (SRS), completing all necessary approval and verifications protocols, and testing of all SIS devices."
What our Customers are Saving..
16M Cost Savings in First Year!
Average savings of (41$) per process action compared to Sharepoint
10X Reduction in reporting and data gathering hours spent
27% Reduction in Costs, While increasing task efficency and performance
Challenges
Regulations and audit findings in the SIS arena have become more stringent with recent safety incidents, but legacy facilities and antiquated systems make compliance complex and time consuming.
Disparate systems and home grown databases create user push back to adoption of consistent process safety data and procedures.
Time consuming data collection combined with non-existent reporting capability hinder informed safety oversight on every level.
Results
Developed from the ground up with strategic operators after a real-world incident, ProSys encapsulates best practice processes and workflow for the SIS lifecycle, including: HAZOP, LOPA, SRS and FSA.

ProSys is designed for enterprise wide systematic documentation, auditing and compliance while offering turnkey integration capabilities for prior data formats.

ProSys' enhanced data gathering efficiency's

create significant upfront savings while enabling management to mitigate risk through collective knowledge and transparency.
"The new product transcends traditional process safety database software with an integrated design to reduce cost and effort with automated and standardized workflows to execute compliance and engineering processes." – Control Engineering Magazine
Sign up Today For a Demonstration
Contact us today for a one-on-one demonstration of our award winning safety lifecycle platform.