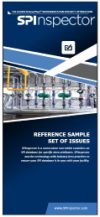 REFERENCE SAMPLE SET OF ISSUES
SPInspector is a stand-alone tool which examines an SPI database for specific data attributes. SPInspector marries technology with industry best practices to ensure your SPI database is in sync with your facility.
Please complete the form below and you will be redirected to your download.