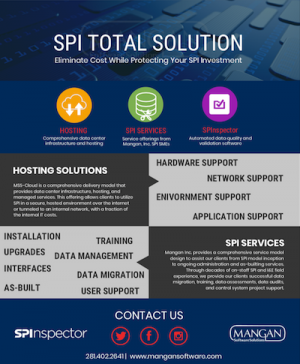 SPI Hosting and Services
HOSTING SOLUTIONS
MSS-Cloud is a comprehensive delivery model that provides data center infrastructure, hosting, and managed services. This offering allows clients to utilize SPI in a secure, hosted environment over the internet or tunneled to an internal network., with a fraction of the internal IT costs.
SPI SERVICES
Mangan Inc. provides a comprehensive service model design to assist our clients from SPI model inception to ongoing administration and as-builting services. Through decades of on-staff SPI and I&E field experience, we provide our clients successful data migration, training, data assessments, data audits, and control system project support.
Please complete the form below and you will be redirected to your download.